NWAA Supporter

Posts: 322
Joined: 30 Mar 2015, 13:09
Location: Mordor
Ha ha, where's all this 2 stroke madness going to end?
Definitely need to have a catch up soon Paul, work's taking over my life.
---
you need to try the RG500 one day mate - that will scare the crap out of you. not just because it's fast, more the brakes, handling and general old school feel of everything coupled with a bat shit scary engine
Upgrade your account to VIP status to enable the Signature feature.
---
NWAA Supporter

Posts: 322
Joined: 30 Mar 2015, 13:09
Location: Mordor
Erm, you're not really selling me the idea.
---
nah it's fine honest. i ragged it around a valley trackday last year in inters and had a good laugh scaring me and anyone that dare pass me lol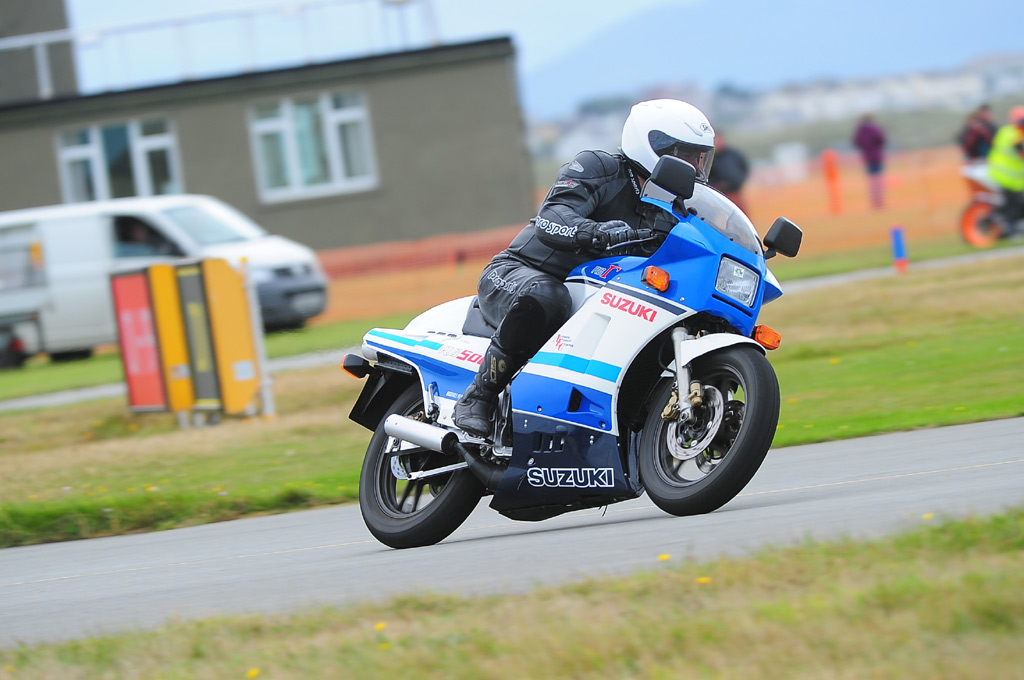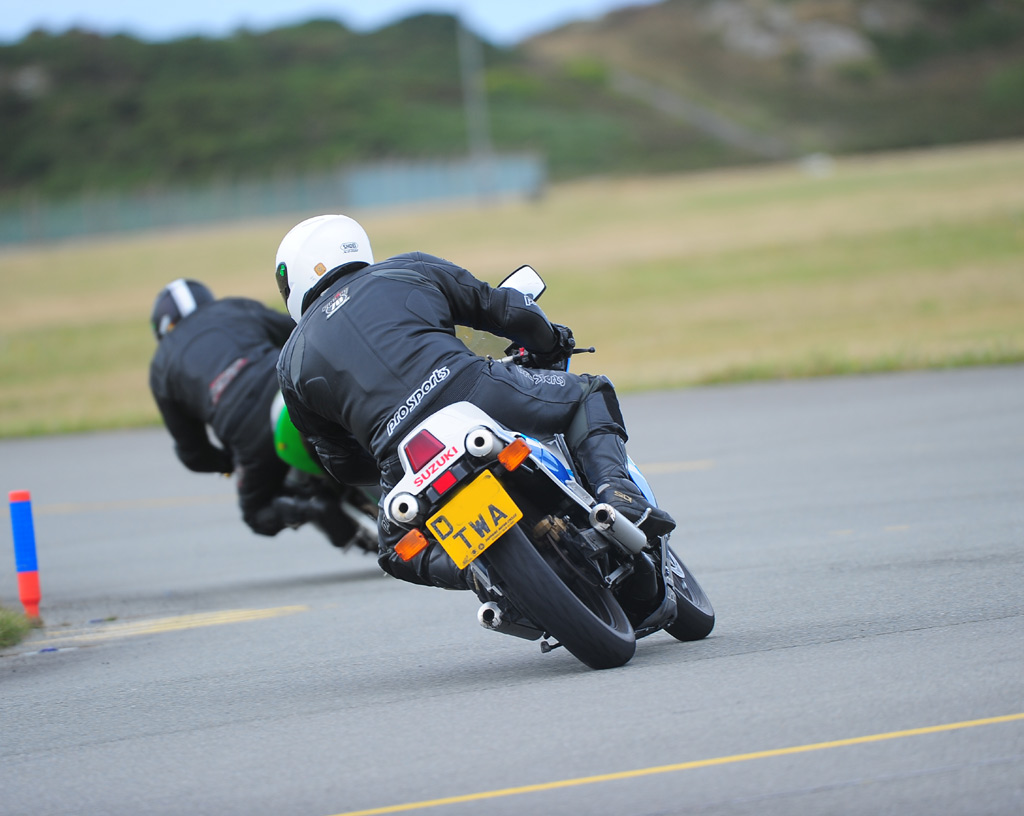 Upgrade your account to VIP status to enable the Signature feature.
---
NWAA Supporter

Posts: 322
Joined: 30 Mar 2015, 13:09
Location: Mordor
Ill text you and we'll sort something out soon mate.
---
Ok - so another update, a tale of mixed emotions and highs and lows. all part of owning a 2 stroke HRC built bike i guess.
So i took the CR to Anglesey for a track day early june - and it seized solid on the second session on the back straight. I saw a recorded 560 degrees on the EGT before the piston called time and started to melt.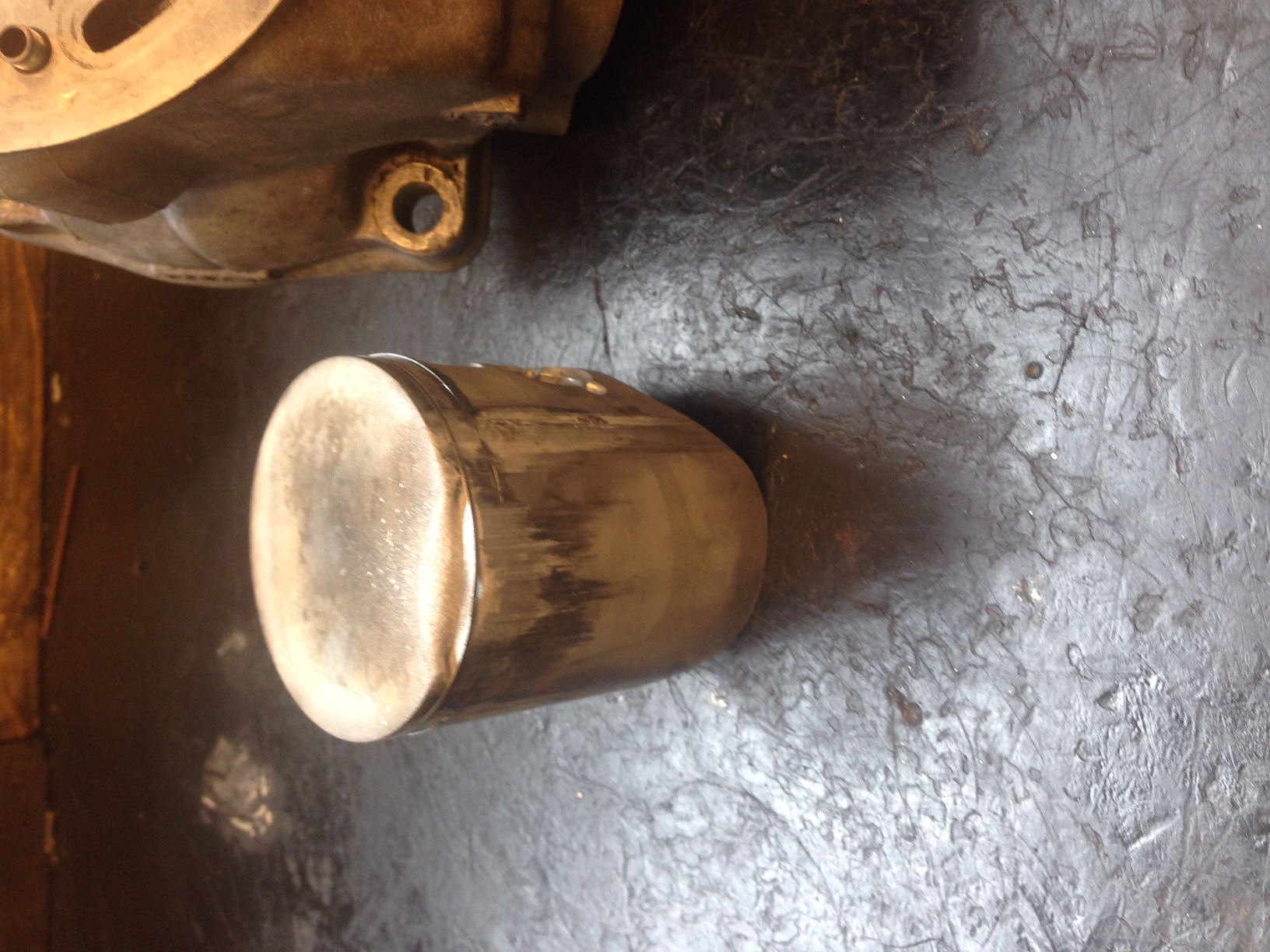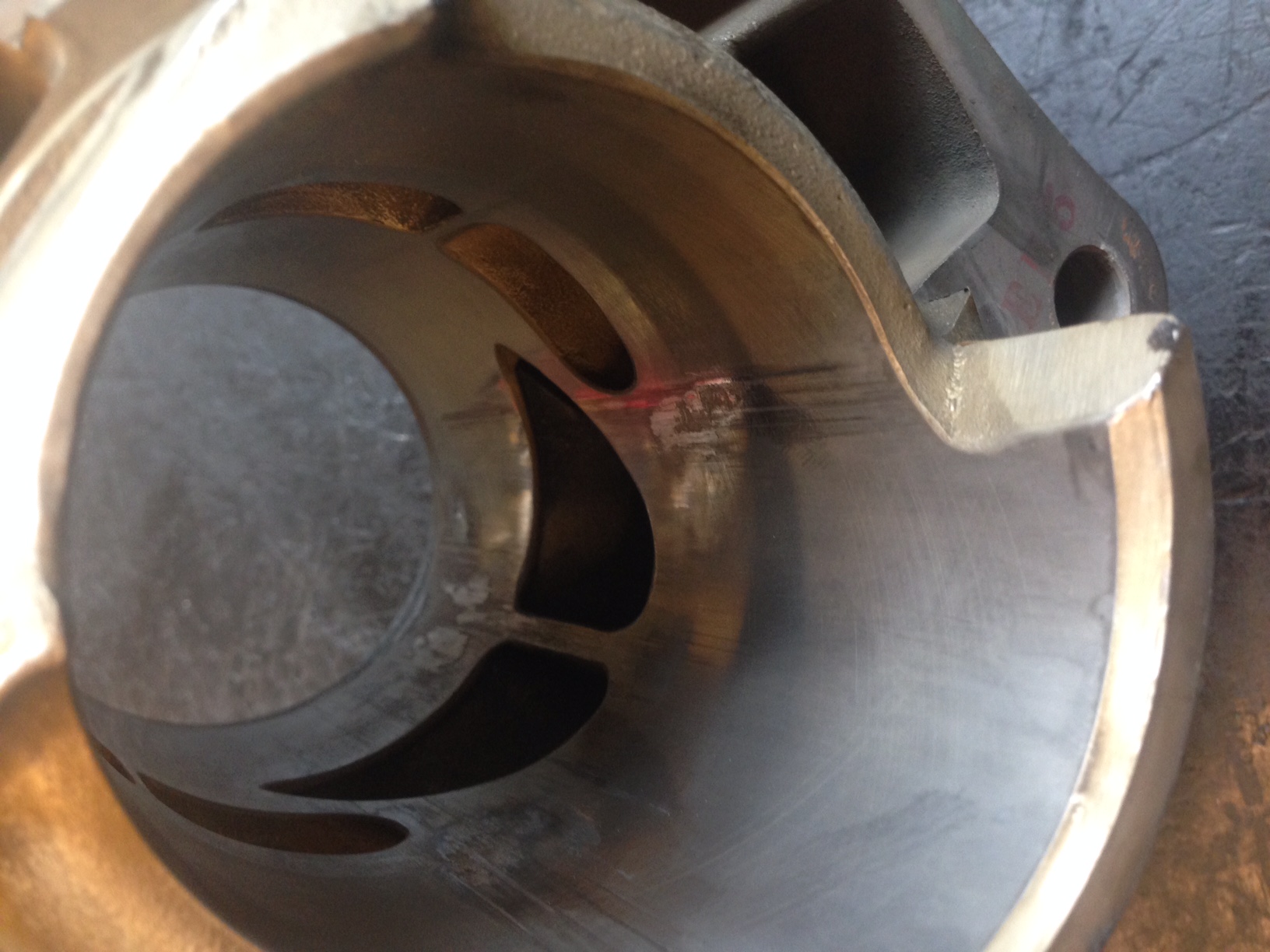 That will be another new piston required and a serious re think about fueling / jetting.
It was clear that sustained flat out use is the killer and while it may be fast it just cannot sustain those kinds of figures.
With Cadwell classic track weekend looming i needed a fix and fast.
So with a new piston, i took the liberty of moving the clip down on the needle to make the mid range very rich, then took the CR out on the roads around wales for 50 miles.
The bike performed well and felt really good with minimal pinking noises and temps were much lower. However this was the road don't forget so sitting at 60 - 70 is easy and relaxed on the CR and it runs very cool and happy in this zone and even managed around 40mpg.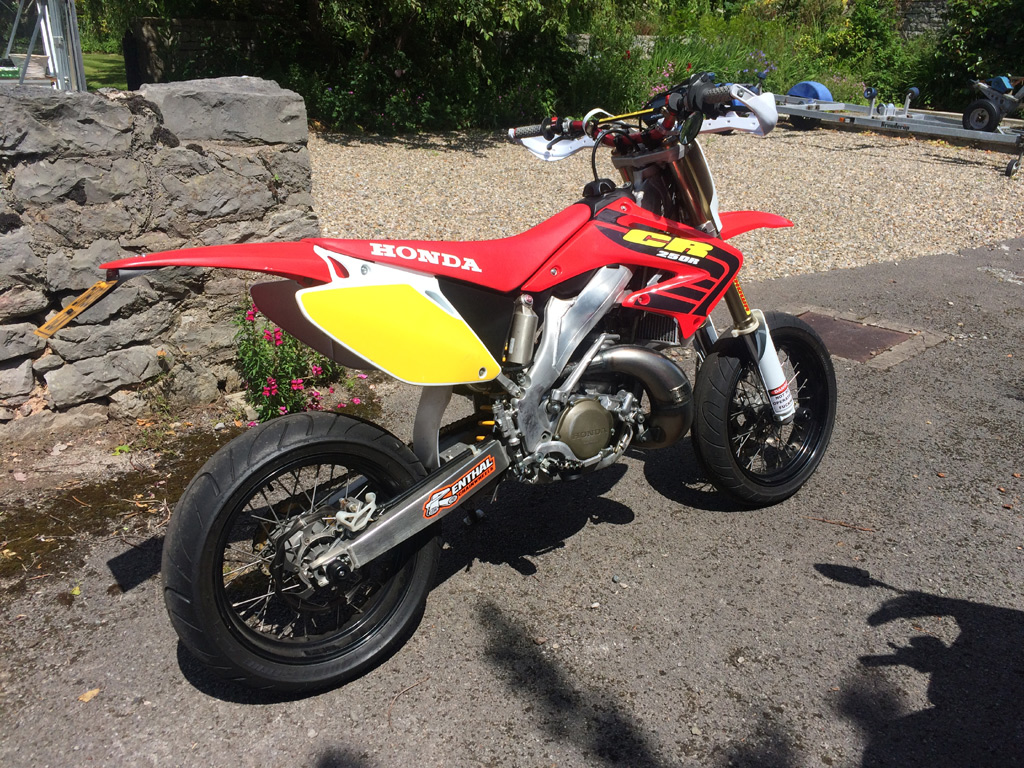 A quick top end strip showed no sign of any melting or wear or over heating, and a very nice oily residue - result i am getting there.
In the mean time Ian had completed the front section of the custom pipe - holy shit its massive. This is due to be completed mid August and ready for some serious top end work.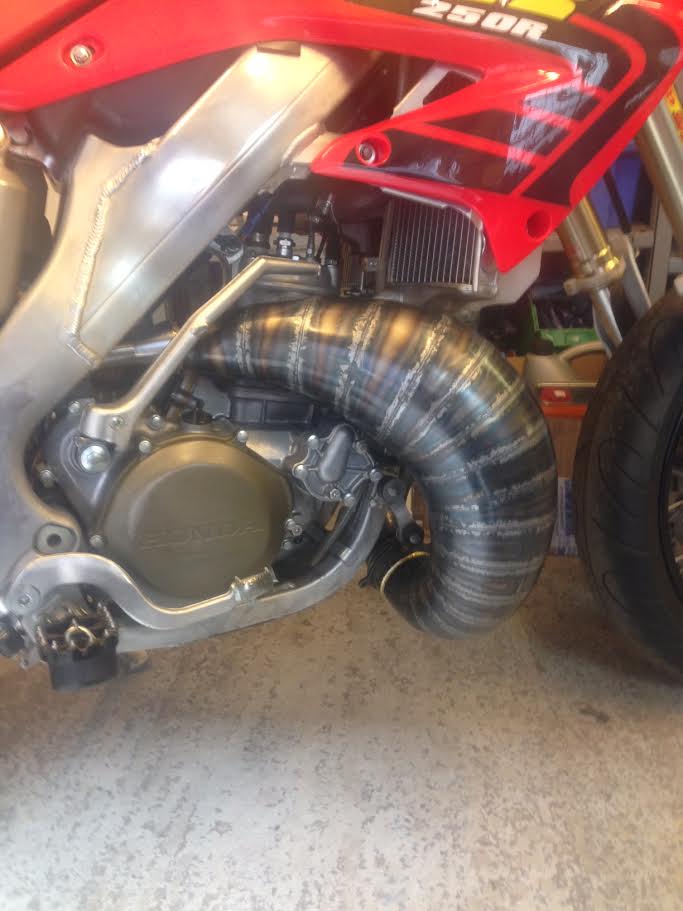 I also had Talon fabricate me a couple of 36 tooth rear sprockets which are 2 teeth less than the minimum 38 tooth on offer. this will give a theoretical 117mph top speed (until i sit on it that is)
So with Cadwell coming the bike is loaded up and i take the RD350N1 as the backup bike should it end in tears. well there was no need.
I took the liberty of changing the main jet from a 390 to a 420 and put a half washer under the needle to help in the "danger zone" as i like to call it on part throttle around corners. See these bikes really don't do part throttle like all your bikes, its more like a switch either on or off, and any part throttle makes it bump and bang and shudder, just what you need flying around charlies at 90 mph in 5th at 8k on part throttle its like you are riding a mower.
Anyway all this worked, the bike managed over 140 miles and 4 hours running over both days, not only not missing a beat but also performing to a whole new level and unexpected ability to just about pass everything in a corner.
This was by no means my riding skills sadly more the bikes ability, and a skilled rider at the helm i am sure could have done some real ego damage to many on this.
It was again flat out in 2 sections, both seeing nearly 540 degrees on the EGT but not once did it pink or sound lean and there was much 4 stroking low down and on part throttle so it was way too rich - but it held together for the sake of the last 4 - 5 bhp.
I estimate around high 40's bhp in this state of tune.
Pitched out there in the field of 250 strokers and 400 4 strokes it was in a class of its own. the only bike that really fucked off was a lad on a Honda RS125 who just checked out on everyone. against my lot from 400greybike on NC30's and RVF's the CR250 was equal at the end of the straights only the modded bikes able to get past me on the straights, only to lose out on the brakes and certainly not carry any way near as much corner speed or have the same punch out of corners..
I was seeing an average of 2.06 on my GPS dashboard from the on board lap timer (works out where you are and overlays the circuit and uses GPS for laptimes.) which in a busy field riding safely and not making lunges on people in corners was i felt very quick, but more importantly it taught me to use the whole track without feeling i am a hindrance to anyone or holding others up - because it wasnt.
So the highlight and main event of the year was a great success, it was built for this event and it proved to be reliable and bloody fast.
Will it be a keeper ? yes i think so, the new old stock 07 may be sold on as its worth a lot of money back as a new motocross bike that's standard and road legal. i will keep and develop the 03 further though.
I really like the look of Ians billet cases that are reverse cylinder. now that would be an epic project.
I suspect though we may be making a CR/CRM hybrid engine to fit inside the CR frame, now that would give me 6 normal gears, oil injection, and huge power from the CR - winner.
(Pics will follow)
Upgrade your account to VIP status to enable the Signature feature.
---
Brilliant!! Well done. Sounds like a huge success. Just need you to come & sort my RD400 now. Haha
---
lets see a pic of your rd 400 nori i had a couple when i was a young chap
---
pip wrote:lets see a pic of your rd 400 nori i had a couple when i was a young chap
Its not mint or all original, Pip but its not too bad, but I've got an annoying intermittent fault and it keeps running on one cylinder. Probably a broken wire.
---
very nice,my favourite bike when i first started riding. cheers
---
---